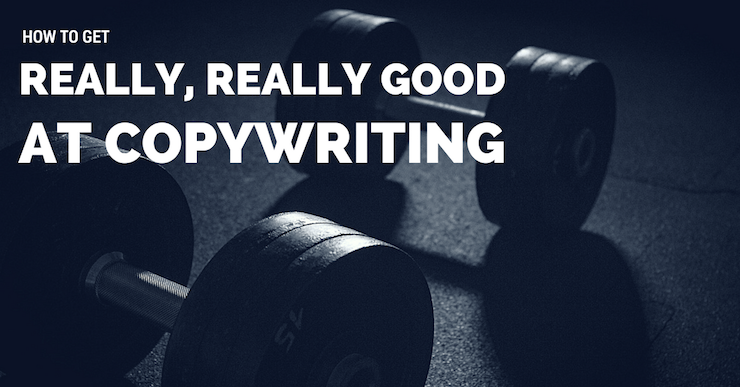 Do you want to get really, really good at copywriting?
Do you want to get so good at copywriting you've always got a steady stream of clients dying to work with you?
. . . So good you write for the top companies in your industry?
. . . So good you look forward to fat royalty checks in the mailbox every quarter?
The good news is, I'm going to show you how to get good at copywriting in this article. And get this:
You Only Need Two Things To Get
Really, Really Good At Copywriting
Yes, you read that right. It only takes two things to become a copywriting boss. Unfortunately, those two things are:
Time

Hustle
Look, this is Just Add Hustle. It's not Just Add Bullshit.
I'm not going to bullshit you and say the path to copywriting godhood is quick or easy. It's not. In fact, it's a long, grueling grind. A grind that demands hours of effort.
How Many Hours?
Are you familiar with the "10,000 Hour Rule" popularized by Malcolm Gladwell in his book Outliers?
The rule was formulated by Anders Ericsson, a Professor of Psychology at Florida State University.
Dr. Ericsson was studying violinists at Berlin's Academy of Music. And what he found was a big gap in how many hours the elite violinists devoted to practice compared to the good and less-skilled violinists at the academy.
By age twenty, the elite violinists had devoted an average of 10,000 hours of practice to the violin. On the other hand, the merely good violinists had devoted 8,000 hours of practice, while the less-skilled violinists had devoted just 4,000 hours to practice.
In other words, the elite violinists had devoted much more time to practice than their less impressive peers. Makes sense, right? After all, most of us have been told at some point "practice makes perfect". . .
But 10,000 hours of practice?!
That's 20 hours for 50 weeks a year for 10 years. Few people can spare that many hours to get good at copywriting. Especially if you're balancing work and family while you're at it.
Fortunately, you don't need to grind it out for 10,000 hours to write good copy. I'm maybe a third of the way to that mark, and my copy makes money for my clients.
Of course, the more hours of effort you put in, the better you'll be. The copy I write now — while by no means A-level copy — is much, much better than the copy I wrote when I first got started.
And that's an important point. You don't have to wait to get started as a copywriter. You shouldn't wait. You should write — either for yourself or for clients — every day. Even as a newbie copywriter, you'll deliver value to your clients.
But you'll deliver more value — and reap greater rewards — when you get really, really good at copywriting. And that takes time. It also takes . . .
HUSTLE!
If you're still reading, congratulations you're a masochist!
I'm joking, but only a little. Because as rough as the idea of grinding it out hour after hour after hour to get good at copywriting may be, things are about to get downright brutal.
That's because just putting in the hours isn't enough. You've got to see to it that those hours of effort accomplish three specific things — none of which are easy or fun. Let me explain . . .
In the outstanding book Talent Is Overrated, author Geoff Colvin lays out the three requirements to achieve mastery in any field:
Deliberate Practice

Domain Knowledge

Master Coaching
Let's look at all three of these and how you'll use them to get really, really good at copywriting.
Requirement #1: Deliberate Practice
In Talent Is Overrated, Geoff Colvin describes deliberate practice as:
". . .[an] activity designed specifically to improve performance, often with a teacher's help; it can be repeated a lot; feedback on results is continuously available; it's highly demanding mentally, whether the activity is purely intellectual, such as chess or business-related activities, or heavily physical, such as sports; and it isn't much fun."
Doesn't exactly sound like a day at the beach, does it? And the truth is, deliberate practice is TOUGH. But that's what makes it great.
Because as you submit yourself to the fires of deliberate practice, you'll find your copywriting skills refined by the process.
So what's the best way to engage in deliberate practice as a copywriter?
One of the best ways to engage in deliberate practice as a copywriter is by hand-copying winning space ads and sales letters.
Every morning, seven days a week, I spend a half hour hand-copying sales letters. And you should too, if you're not doing it already.
When you hand-copy winning sales letters you're filling your subconscious mind with the fundamentals of good copy. This will make you a much stronger writer.
And there's nothing magical or "woo woo" about it. Think of it like a pianist practicing Mozart day after day; or, a basketball player spending hours perfecting his jump shot.
Hand-copying sales letters is essential deliberate practice for any copywriter.
But when you hand-copy sales letters don't do it with a podcast playing or TV on in the background. Yeah, that Netflix queue is going to have to wait.
You've got to be fully immersed in the task, with no distractions. You should feel worn out when you're finished.
Geoff Colvin describes deliberate practice as being "not much fun" for a reason. It's mentally taxing work!
Deliberate practice may not be fun, but writing a blockbuster control that makes you and your client a heap of cash? Yeah, that's fun.
And daily deliberate practice is how you forge the copywriting skills you need to write those blockbuster controls.
Here's a free gift from me to help you get started with hand-copying winning sales letters and classic ads:
Did you download your free gift? Coolio! Now let's look at:
Requirement #2: Domain Knowledge
Picture a mystic, seated in the lotus position, all alone atop a mist covered mountain.
This mystic has a deep, almost supernatural knowledge of the inner workings of the universe — she seems to know all, to see all. And people travel from all over the world to listen to her teaching and wisdom.
You must become that mystic when it comes to copywriting. You must cultivate a deep, almost supernatural knowledge of copywriting.
In Talent Is Overrated, Colvin calls this "domain knowledge".
Domain knowledge means you've internalized the tips, tricks, and tactics of A-level copywriters; it means you're on top of what's working right now in copywriting; it means you know your market better than they know themselves.
By cultivating domain knowledge you'll write better copy because you'll internalize the lessons of A-level copywriters, instead of the worthless "ninja" tactics of copywriting hucksters.
You'll deliver more value to the market because you'll be so completely dialed into what the market wants.
And, ultimately, you'll enjoy more success as a copywriter because your skill set will allow you to command higher fees and receive bigger royalties for your work.
That sounds pretty good, yes? YES! So how do you cultivate domain knowledge as a copywriter?
First, you're going to read the following books:
Scientific Advertising

—

Claude Hopkins
How To Write A Good Advertisement

—

Vic O. Schwab
The Robert Collier Letter Book

—

Robert Collier
Tested Advertising Methods

—

John Caples
Breakthrough Advertising

—

Gene Schwartz
Ogilvy On Advertising

—

David Ogilvy
Read these books, underline them, hand-copy your favorite passages, and rewrite key concepts from them in your own words.  
Reading these books will give you a deep understanding of the essential rules of effective copywriting. I can't imagine ever getting really, really good at copywriting without reading these books.
In fact, every A-level copywriter I've had a chance to speak with — Bob Bly, Parris Lampropoulos, David Deutsch, etc. — has read these books not once, but many, MANY times.
You should do the same.
But you should also spend time reading and studying current sales copy: all those video ads that chase you around Facebook, sales letters and magalogs that arrive in your mailbox, magazine ads — study it all!
That's what I do. Every morning, after hand-copying sales letters for a half hour, I spend another half hour reading and studying winning sales copy.
I want to know what's working in copywriting right now so I can keep my copy fresh, exciting, and engaging to prospects.
And speaking of prospects, there's one more thing you must do to cultivate domain knowledge, and it's by far the most important.
Without This Your Sales Copy Has As
Much Chance As A Goldfish On A Cat Farm
The most important thing you can do as you cultivate domain knowledge is LEARN EVERYTHING THERE IS TO KNOW ABOUT YOUR PROSPECT!
I'm sorry about the all caps, but this is uber-important.
In fact, you could be the world's most persuasive copywriter, but if you don't understand your prospect, then your copy is going to be about as effective as a bicycle with no wheels.
As Robert Collier put it way back in the 1920's:
"Study your prospect first — your product second. If you understand his reactions, and present those phases of your product that relate to his needs, then you cannot help but write a good letter." — Robert Collier
'Study your prospect first -- your product second.'
Click To Tweet
So how do you learn everything there is to know about your prospect?
Well, first you've got to IDENTIFY your prospect.
This is important because some people never bother to ask who their prospect is; while others think they know who their prospect is, but it turns out they got it wrong. Your copy won't be effective if you make either of these common mistakes.
So make sure you first identify exactly who your prospect is, and then hang out in forums and Facebook pages where she hangs out; read the Amazon reviews from the products she buys; and, most importantly, TALK with her!
Go find someone — a friend, a family member, a neighbor — who represents your ideal prospect. Then ask her to talk about the problem your product is trying to fix.
For example, let's say you sell a joint pain relief supplement. Go talk with someone who has arthritis about what it's like to have arthritis. You'll be surprised by what she has to say. And you'll gain a much deeper understanding of your prospect when you do this.
As you can see, cultivating domain knowledge takes time and hustle. It ain't easy! But it's essential if you want to get really, really good at copywriting.
But we've got one more requirement for getting really, really good at copywriting.
And this requirement is the one that will take you over the top.
Requirement #3: Master Coaching
I realize that after seeing "Master Coaching" some of you might think a sales pitch is on the way.
You might think I'm about to offer coaching services or a product or something like that.
Nope!
One day maybe, but the truth is, right now, I'm not qualified to offer master coaching. Far from it.
Because master coaching means working alongside an A-level copywriter, and there aren't many legitimately A-level copywriters out there.
But the fact is, some copywriting skills are difficult, or impossible, to master on our own. We need help. Here's how Colvin puts it in Talent Is Overrated:
"From this perspective we can see mentors in a new way — not just as wise people to whom we turn for guidance, but as experienced masters in our field who can advise us on the skills and abilities we need to acquire next, and can give us feedback on how we're doing."
So if you want to get really, really good at copywriting, the final requirement is working with an A-level copywriter like Clayton Makepeace, Parris Lampropoulos, John Carlton, or Carline Anglade-Cole.
Of course, that raises a challenge:
How do you connect with an A-level copywriter for master coaching?
Well, the good news is, copywriting has a long history of A-level copywriters from one generation personally passing down their expertise to the next generation of up-and-coming copywriters.
In fact, all four of the A-level copywriters I mentioned above were, at some point, under the guidance of Gary Halbert, Ted Nicholas, or another A-level copywriter.
So master coaching definitely does happen in copywriting. The question is, how do you make it happen for you?
Let me try to answer that question based on my own experience.
Early this year, I started working alongside an A-level copywriter. As you can probably imagine, this has been a kick-ass experience. I'm learning tons.
It's like I'm living every day in the copywriting equivalent of a Rocky training montage.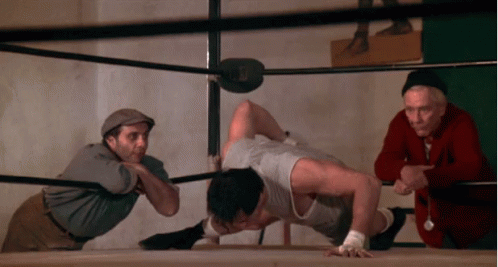 So how can you connect with an A-level copywriter for master coaching?
I wish I could give you a proven formula for doing that. I can't. But I can share a few things that, in my experience, increase your chances of receiving master coaching from an A-level copywriter:
Hone your skills

— You need to be a student of the game. That means hand-copying winning sales letters … reading "old", "out-dated" copywriting books like the six I listed above … and staying on top of what's working in copywriting right now. In other words, show you're serious about becoming a kick-ass copywriter.
Pursue excellence

— I've talked with dozens of up-and-coming copywriters just like you and me who receive master coaching from A-level copywriters. And do you know one thing these up-and-coming copywriters have in common? They're all obsessed with learning, growing, and improving their copywriting skills.
Put yourself out there

— Go to events where A-level copywriters hang out. Events like AWAI's Copywriting Bootcamp & Job Fair, Kevin Roger's Copy Chief Live, Brian Kurtz's Titans of Direct Response, and so on. If you want to work with an A-level copywriter, you've got to get on their radar.
If you're serious about getting really, really good at copywriting, seek out master coaching from an A-level copywriter. It may be easier than you think.
When I first started copywriting three years ago, I looked at A-level copywriters the way a 12-year-old basketball fan looks at Lebron James or Stephen Curry: As larger-than-life heroes I'd never meet in real life.
But since then I've had a chance to meet with and interview many A-level copywriters. And I've discovered they're as kind and generous as they are talented.
I'm amazed by the encouragement and support that radiates from the copywriting community. Plug into that community!
How About You?
You just read 2,400+ words on how to get good at copywriting.
Is this the only way to get good at copywriting? Of course not. But it's a proven way; a way that's worked for the legends of this industry; and a way that, I believe, will work for you, too.
So let's wrap this article up with a question:
What will you do TODAY to get better at copywriting?
Let me know in the comments section below!
Hey, Friend! Did you claim your free gift?