Do you want to be a better writer?
If you you want to be a better writer — of blog posts, fiction, ad copy, or anything else that involves stringing words together — you need to keep your nose buried in books.
The best writers are also voracious readers; they feast on books like a 350-pound NFL lineman stuffing his face at an all-you-can-eat buffet.
Your favorite writers hunger for books.
And chances are, you hunger for books, too. My guess is, you're a reader.
I am, too. And one of my favorite things to do with fellow readers is to chat about books.
So I thought it would be fun to start an informal Just Add Hustle Book Club.
Here's how it works:
1. I'm going to list each book I read this year followed by a few sentences summing up the book.
2. If you've read any of the books listed, share your thoughts in the comment section below. Or, if you have a book you'd like to recommend, let the community know!
Like I said, it's a super informal book club.
But, I think it could be a cool way to spark conversation!
I want to hear your thoughts on any of the books I've read; and, even more than that, I want to hear your recommendations on what to read next.
One quick note about the links on this page:
If you click on a book link, you'll be taken to the book's store page on Amazon.
These are affiliate links, which means if you buy the book from Amazon, I receive a small commission.
This commission helps me cover the costs of running the site, which is a big help.
Of course, you can also find the books at your local bookstore, library, or wherever fine books are available where you live.
So wherever you find one of these books read it, think about it, and share your thoughts in the comments section!
1. How To Write A Good Advertisement – Vic O. Schwab
If you're going to read only one book on copywriting, make it Vic O. Schwab's How To Write A Good Advertisement.
How To Write A Good Advertisement distills Schwab's decades of copywriting know-how (Schwab is often hailed as the greatest mail-order copywriter of all time) into an easy-to-read, actionable book.
Although How To Write A Good Advertisement was originally published in 1942, it remains immediately relevant to our digital age.
Read the book and you'll discover: The 5 Fundamentals Of A Good Advertisement – How To Gain And Hold Your Reader's Attention – 100 Proven Headlines And Why They Work – How To Paint Pictures With Words – And so much more.
I read How To Write A Good Advertisement once a year. And if you're interested in captivating your readers no matter what you write, I urge you to do the same.
Click here to find How to Write a Good Advertisement on Amazon.
'Make sure whatever you write is easier to read than it is to skip. Never be boring.'
Click To Tweet
2. Colorless Tsukuru Tazaki – Haruki Murakami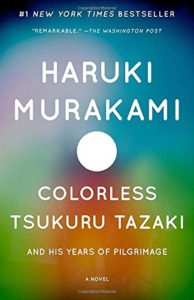 Haruki Murakami doesn't have readers; he has diehard fans. In a way, he's the J.K. Rowling of "serious" literature.
And in The Colorless Tsukuru Tazaki Murakami's written a book that's sure to please his diehard fans. But it may not be the best entry point for people new to Murakami's fiction.
The Colorless Tsukuru Tazaki tells the story of a 30-something Japanese architect (the Tsukuru Tazaki of the book's title) trying to make sense of a past trauma.
What follows is a travel story that spans Japan, the forests of Northern Europe and places both real and imagined.
To say any more would spoil Murakami's bittersweet tale. Of course, if you're a fan of his work, then you've probably read this book by now, anyway.
But if you're new to Murakami's work, I think Kafka On The Shore or even Sputnik Sweetheart makes a better entry point. Ultimately, I found The Colorless Tsukuru Tazaki to be a lesser work by one of modern fiction's masters.
Click here to find Colorless Tsukuru Tazaki on Amazon.
'You can hide memories, but you can't erase the history that produced them.
Click To Tweet
3. The ONE Thing – Gary Keller & Jay Papasan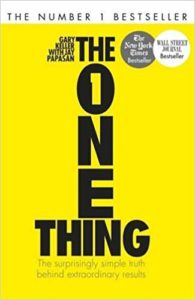 If you, like me, have ever felt busy but not productive, then you need to read The ONE Thing.
In The ONE Thing, Gary Keller and Jay Papasan show you how to go from busywork to big results by focusing on what they call "the ONE thing".
The ONE thing is the immediate next action you must take in order to achieve success.
Your ONE thing might be learning a new writing skill. Or signing on three new clients. Or finally making your website live.
But whatever your ONE thing happens to be, unless you focus on it – at the expense of everything else – you'll be spinning your wheels and going nowhere.
The ONE Thing is the rare productivity book with the power to change your life and business. Read it.
Click here to find The ONE Thing on Amazon.
What's the ONE THING you can do such that by doing it everything else will be easier or unnecessary?
Click To Tweet
4. Made To Stick – Chip Heath & Dan Heath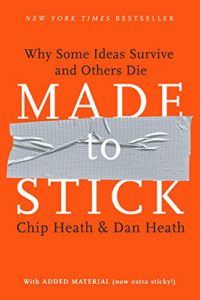 Why do some ideas succeed while others fail?
If you're anything like me, you've asked this question before. And maybe you've also asked the obvious follow-up question, "How can I make more of my ideas succeed?"
In Made To Stick, brothers Chip and Dan Heath outline the six key qualities that make ideas succeed – or in their words "stick".
What's more, they also show you how to use these six key qualities to craft writing that's more compelling, engaging and memorable.
Anyone who wants to write better blog posts, ad copy, fiction, or any form of writing that communicates ideas should read Made To Stick.
One of my favorite reads so far this year.
Click here to find Made to Stick on Amazon.
How do we get people to care about our ideas? We make them feel something.
Click To Tweet
5. Essentialism – Greg McKeown
As I get older, I'm reminded more and more that life is about trade-offs.
There simply isn't enough time to do everything. We're all racing the clock.
Greg McKeown's Essentialism is a book about doing more of the things that matter most in the relatively brief time we have.
Which brings us back to trade-offs. Essentialism's subtitle is "The Disciplined Pursuit Of Less" and that neatly encapsulates the book's main argument.
Essentialism is a take-no-prisoners guide to pursuing the few things that truly matter. And ruthlessly eliminating the vast array of non-essential things that slurp up our time like a coven of hungry vampires.
My only complaint with Essentialism is that it would have benefitted from tighter editing; the book is longer than it needs to be.
But even though it can be redundant in places, the main argument Essentialism makes is compelling – and necessary in our "always online" era. I recommend the book to anyone who wants practical advice on how to live a more productive life.
Click here to find Essentialism on Amazon.
If you don't prioritize your life, someone else will.
Click To Tweet
6. & 7. On Writing Well – William Zinsser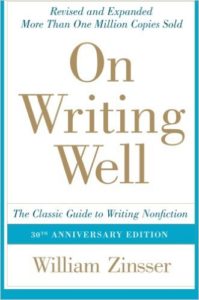 William Zinsser's On Writing Well was the sixth and seventh book I read this year.
As soon as I finished reading it the first time, I turned back to page one and read it all over again. That's how much I enjoyed this book.
And what a book it is!
On Writing Well is divided into four parts: Principles, Methods, Forms, and Attitudes. And in each of these four parts Zinsser shares lessons that will make your writing stronger.
For example, in Part One, "Principles", Zinsser shows you how to clip and prune the inessential from your writing to make it less cluttered and more engaging to your audience. And that's just for starters.
Every page of On Writing Well is packed with a tip, lesson, or anecdote that will make you a better writer.
On Writing Well will be a book I return to again and again. Essential.
Click here to find On Writing Well on Amazon.
Remember that words are the only tools you've got. Learn to use them with originality and care.
Click To Tweet
12. Outliers – Malcolm Gladwell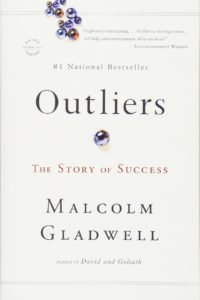 Malcolm Gladwell's books are like broccoli that tastes like a chocolate chip cookie:
They present heady, well-researched ideas that make you think, but they're just so darn fun and easy-to-read!
In Outliers, Gladwell popularizes the now famous "10,000 Hour Rule" — a rule that states it takes approximately 10,000 hours of tough, grueling practice to achieve expertise in any field.
But Outliers is so much more than a treatise on the 10,000 Hour Rule.
At its heart, Outliers is a book about success: what success is, how to achieve it and, most provocatively, why success is never the outcome of individual effort alone.
I blazed through this 270-page book over a weekend. And once you pick it up, I doubt you'll be able to put it down till you're finished either.
Click here to find Outliers on Amazon.
'No one who rises before dawn 360 days a year fails to make his family rich.' - Chinese proverb
Click To Tweet
13. How To Win Friends & Influence People – Dale Carnegie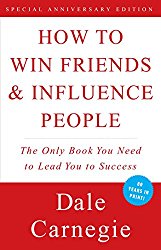 You've heard of Dale Carnegie's How To Win Friends & Influence People. 
After all, it helped to create the entire field of personal development. And it remains, more than eight decades after its original publication, one of the best known books of its type.
But if you've never read the book, it might be easy to write it off as a bunch of "rah rah" feel-good fluff. That would be a mistake.
Because How To Win Friends & Influence People is packed with time-tested, practical advice that will help you get along better with people.
Speaking from my own personal experience, I can tell you that nothing has helped my writing career more than my ability to get on well with other people. And I credit How To Win Friends & Influence People with helping me improve those all-important people skills.
This is a book you need to read – or re-read. But make sure you stick with the original version of How To Win Friends & Influence People.
An updated "digital age" version of the book was published in 2012 and it pales compared to the original version.
Click here to find How To Win Friends & Influence People on Amazon.
'The only way on earth to influence other people is to talk about what they want and show them how to get it.'
Click To Tweet
17. Flow – Mihaly Csikszentmihalyi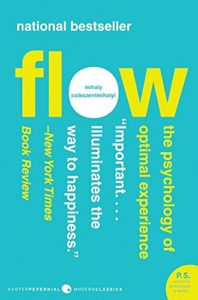 In Flow, University of Chicago psychologist Mihaly Csikszentmihalyi wants you to rethink happiness.
Csikszentmihalyi believes happiness does not depend on what you do, but rather on how you do what you do.

For example, a luxury vacation can feel like drudgery if you're only going through the motions. But even a task as mindless as mowing the lawn can be a source of happiness if you choose to be fully engaged.

Flow reveals ways to be fully engaged with life, so you can maximize happiness. This engagement is often challenging; it can be exhausting; but Csikszentmihalyi argues (and I'd agree) that at the end of the day an engaged life is the one that's truly worth living.
Click here to find Flow on Amazon.
'Unless you take charge of them, both work and free time are likely to be disappointing.'
Click To Tweet