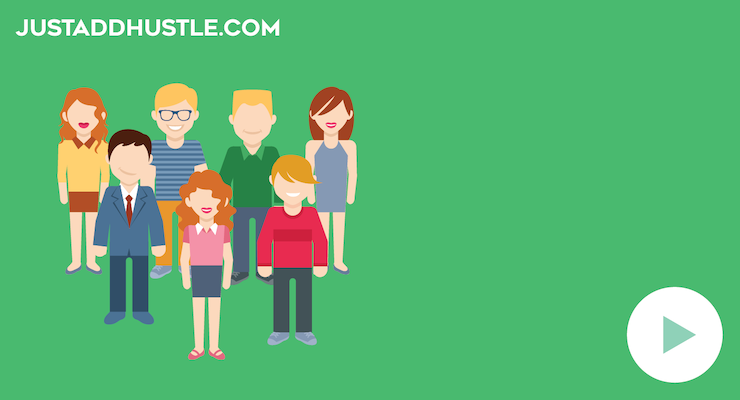 Just Add Hustle can be found on both iTunes and Stitcher.
This week's show:
If you're trying to grow a new blog, then you know what a challenge it can be to get traffic and readers.
Sometimes it feels like it's just you, your significant other and maybe your mom visiting the blog you've worked so hard to build.
I'm not the only one that feels like that, right? 🙂
But, what if you could attract hundreds of eager readers to your blog …
And be perceived as a top expert in your field at the same time (even if you're still a relatively newbie).
That's what an expert roundup can do for you.
In this episode of Just Add Hustle, Minuca Elena shares her process for creating this unique type of content.
Minuca is a recent college graduate from Bucharest, Romania who's leveraged her knack for creating expert roundups into a full-time freelance writing business.
You're going to love her story. So go ahead and click  "Play" below and let's get ready to hustle!
In this episode, you'll discover how to create an expert roundup:
How Minuca established herself as the "go-to girl" for expert roundups — and grew a full-time freelance writing biz in just 12 months …
What exactly is an expert round up and why it's such a powerful way to grow your blog readership …
Minuca's process for getting experts to contribute to an expert roundup …
How to promote your expert roundup for maximum traffic and exposure — (this is a bonus 5-minute training after the full interview so make sure to listen to the very end for it!)
Resources mentioned on the show:
MinucaElena.com — Minuca's blog where you can learn more about her and how she creates expert roundups
Viral Content Bee — This platform is a cool way to get more social media shares for your blog content
Thank you for listening!
Thank you for joining us for another episode of Just Add Hustle.
And another big THANK YOU to Minuca for being a guest.
What'd you think of today's show? Share your thoughts in the comments section below!
You can also share this episode on social media by tapping or clicking any of the social share icons at the bottom of this page.
And before you go:
Would you please rate and review Just Add Hustle over on iTunes.
It will only take a few seconds of your time and I would really appreciate it because it helps me get this show to a wider audience.
Until next time . . . stay hungry and keep hustling!