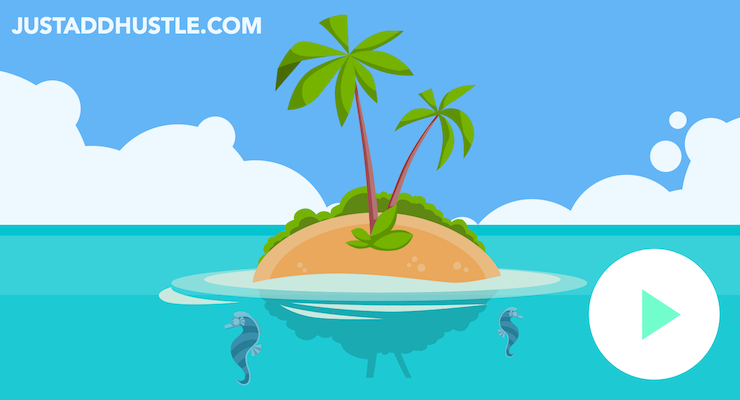 Just Add Hustle can be found on both iTunes and Stitcher.
This Week's Show:
There's never been a better time than right now to make money writing.
The Internet has brought with it a nearly limitless number of freelance writing, self-publishing, promotional and affiliate marketing opportunities for writers who aren't afraid to hustle.
Today's guest is an expert at finding and taking advantage of writing opportunities.
She's Yuwanda Black, author of The Ultimate Freelancer's Guidebook, and site editor at InkwellEditorial.com, a one-stop resource for freelance writers.
As a freelance writer, Yuwanda craves financial stability — don't we all? And that's why she's built her writing biz around multiple sources of revenue.
She makes money working for clients, passively from books and info products she's published, and this year she's ramping up her affiliate marketing effort. In fact, Yuwanda has so many writing hustles going on she calls herself a "hybrid freelancer".
In this episode, Yuwanda shares how and why she became a "hybrid freelancer", along with practical advice you can use to start or grow your own writing business.
Join Yuwanda and me as we look at what it takes to become a successful hybrid freelancer.
In this episode you'll learn:
Why being a "hybrid freelancer" gives Yuwanda more financial security than she ever had at a traditional 9-to-5 job. 
How setting aside the pursuit for perfection empowered Yuwanda to write and publish 50 e-books in a single year … and help thousands of freelance writers in the process.
What happened when Yuwanda laid out a clear plan for where she wanted to take her writing business.
Advice for setting and reaching your writing goals when you feel busy and overwhelmed.
Yuwanda's 7-Step Process for starting a writing biz from scratch 
Resources:
Inkwell Editorial — Yuwanda's Internet home base and an incredible resource for freelance writers
Get A Mobile Career — Watch as Yuwanda grows her affiliate marketing business to $10,000/month this year
Thank you for listening!
Thanks for joining me for another episode of Just Add Hustle!
And another BIG thank you to Yuwanda Black for stopping by the show.
Have some feedback you'd like to share about today's episode? Leave a note in the comments section below.
If you enjoyed today's episode, please share it by clicking or tapping one of the social icons at the bottom of this page.
Also, please leave an honest review of Just Add Hustle over on iTunes.
It will only take a minute of your time, but your rating and review will help us bring the show to a wider audience. I'd really appreciate it!
Finally, make sure you never miss an episode of Just Add Hustle by subscribing to the show using on of the links below: