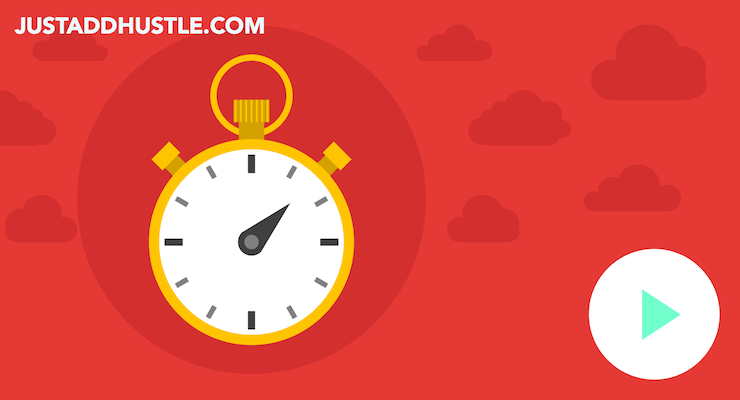 Just Add Hustle can be found on both iTunes and Stitcher.
This week's show:
Katharine Grubb had just welcomed baby #5 into the world when she decided it was time to finally write the novel she'd been putting off for years.
But as a homeschooling mom of five kids under the age of eight, Katharine had very little time to spare.
You could easily look at her situation and decide she simply didn't have the necessary resources to launch a writing career.
But Katharine chose to focus on resourcefulness instead of resources. 
She cleared a space on the kitchen counter, set the timer on the microwave for 10 minutes, and started writing.
It took five years writing in 10-minute chunks at the kitchen counter to finish her first novel, but finish she did.
And those 10-minute increments created a momentum that's changed Katharine's life.
Since publishing her first book:
Hodder & Stoughton, a London-based publishing house, published Katharine's next book Write A Novel In 10 Minutes A Day … 
Her blog, 10MinuteNovelist, was chosen by Writer's Digest magazine as one of the "Top 101 Websites for Writers" …
Her Facebook group for time-crunched writers has grown to 4,500 members and will host its first live event in 2018 — not too shabby for a busy homeschooling mom, right?
If you're reading this, chances are you want to write.
But between work, family, an ever-growing to-do list, and other responsibilities, you just don't know how you can fit writing into your hectic schedule.
Katharine's advice:

'The dream you have of becoming a writer is worth the 10 minutes you have today' - Katharine Grubb
Click To Tweet
In this episode, Katharine talks about how to make the most of the 10 minutes a day you can devote to writing.
Ready to make time for your writing — so you can launch and grow your writing business?
Then join Katharine and me as we look at how you can make time for your writing (even when you feel like you've got no time to spare).
In this episode you'll learn:
How Katharine wrote a novel in 10 minutes a day … while homeschooling five kids at the same time!
What Jerry Seinfeld did to become the world's most famous comic — and how you can use this simple strategy to write better in less time …
Katharine's 5-Step Productivity Process that will help you get the most out of your 10-minute writing chunks …
Why turning writing into a group effort is one of Katharine's secrets to amazing productivity as a writer …
Resources:
Writer's Digest — A must-have resource for bloggers, novelist, freelance writers and anyone who wants to make a living writing
Thank you for listening!
Thanks for lending us your ears and I hope you enjoyed this episode.
What are some of your challenges when it comes to making time for your writing? And how do you overcome those challenges?
Let us know in the comments section below. Don't be shy!
If you're digging this episode, would you do me a solid and share it by tapping or clicking one of the social icons at the bottom of the page? Thanks!
Also, I'd love it if you'd leave us an honest rating and review on iTunes.
It's one of the best and easiest ways to make sure more writers like you can listen to and benefit from what we're doing at Just Add Hustle.
Finally, don't forget to subscribe to Just Add Hustle if you haven't already to make sure you never miss a show.