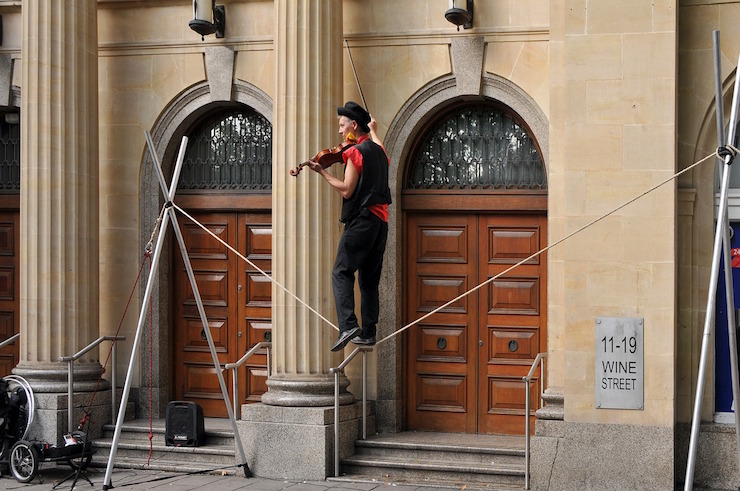 Just Add Hustle can be found on both iTunes and Stitcher.
This week's show:
After a 30-year career in software and IT, Les Worley was burned out.
The 60-hour work weeks, time away from his husband and constant demands of his role as an IT director were all taking a toll.
And not even a comfortable six-figure salary was enough to make grinding it out worthwhile.
So Les turned in his letter of resignation, thanked his boss and made a leap into freelance writing.
Two years later he's having way more fun, enjoys the freedom of being his own boss, and his income is inching closer and closer to the six-figure salary he left at his old job — with the added bonus of working fewer hours.
How'd he do it?
Les shortcut his freelance success by taking his expertise as an IT professional and translating that into writing services for hi-tech companies.
You can do the same.
And in this episode of Just Add Hustle Les shares how to turn your skills into a writing business:
In this episode you'll learn:
How Les turned his skills into a writing business — and how you can do the same …
The #1 challenge Les struggled with when he was first starting out — and how he overcame it …
How turning your existing expertise into writing services will cut down your writing time and help you make more money, faster …
The smartest investment you'll ever make in your writing business …
Resources:
AWAI — If you want to make money writing, you need to bookmark this site
B2B Biz Launcher — Articles, podcast episodes and other resources for launching a profitable B2B writing business
Thanks for listening!
Ladies and gents, thanks so much for tuning into another episode of Just Add Hustle!
I hope you enjoyed it.
And another big "Thank You" to Les Worley for joining us to share his story.
What skills or expertise do you have that you could turn into a writing business? Sound off in the comments section below!
And if you liked today's episode, would you do me a favor and share it by tapping or clicking one of the social icons at the bottom of the page? Thanks!
Also, I'd love it if you'd leave us an honest rating and review on iTunes.
There's no better way to help us bring Just Add Hustle to more writers. And it will only take you a minute!
Finally, don't forget to subscribe to Just Add Hustle if you haven't already to make sure you never miss a show.