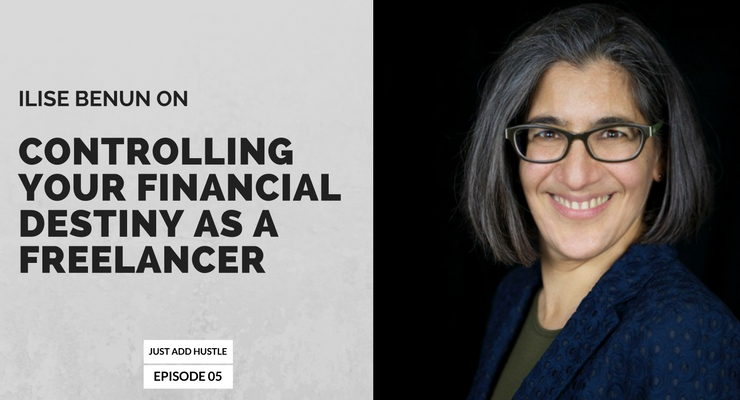 Just Add Hustle can be found on both iTunes and Stitcher.
This week's show:
Pricing your services accurately, quoting projects, and confidently having "the money talk" with your clients are vital parts of your business.
But, maybe you don't know how much you should charge — or even what you're "worth" . . .
Or you choke when the topic of money comes up with a client and you end up settling for whatever they're willing to offer — which is usually a lot less than what you'd like . . .
These are common, costly problems. And when you're dealing with them your business isn't as productive, profitable, or FUN as it should be.
In this episode of Just Add Hustle, Ilise Benun reveals her strategies for controlling your financial destiny as a freelancer.
Ilise is a business coach who helps creative professionals master the money side of their business.
So if you're ready to earn more as a freelancer and take control of your financial destiny, then click "Play" below and let's get ready to hustle!
In this episode, you'll discover strategies for controlling your financial destiny as a freelancer:
The elite group of freelancers who make the most money and have the most fun do one simple thing differently than everyone else — now you can use the same profit maximizing secret in your own business . . . 
The proven 3-step process for accurately pricing your services, quoting projects, and confidently discussing money with your clients . . .
Should you negotiate on your prices? (Ilise's answer was a real eye-opener for me . . .)
How to avoid a surprising mistake you're probably making in client meetings right now — this sneaky slip-up fills you with anxiety and costs you a small fortune . . .
Resources mentioned on the show:
Marketing Mentor — Ilise's blog is filled to the brim with resources, tools, guides and support to make you a smarter marketer and a wealthier freelancer
Marketing Blueprints — Ilise walks you through the do's and don't's of building an effective online presence in this helpful (FREE!) video series
Thank you for listening!
That wraps up another episode of Just Add Hustle.
Another big "Thank You" to Ilise Benun for being on the show. And thanks to YOU for taking the time to tune in.
Did you dig today's episode about controlling your financial destiny as a freelancer? Sound off in the comments section below!
You can also share this episode on social media by tapping or clicking any of the social share icons at the bottom of this page.
Oh, and if you would please rate and review Just Add Hustle over on iTunes.
It will only take a few seconds of your time and I would really appreciate it because it helps me get this show to a wider audience.
Until next time . . . stay hungry and keep hustling!