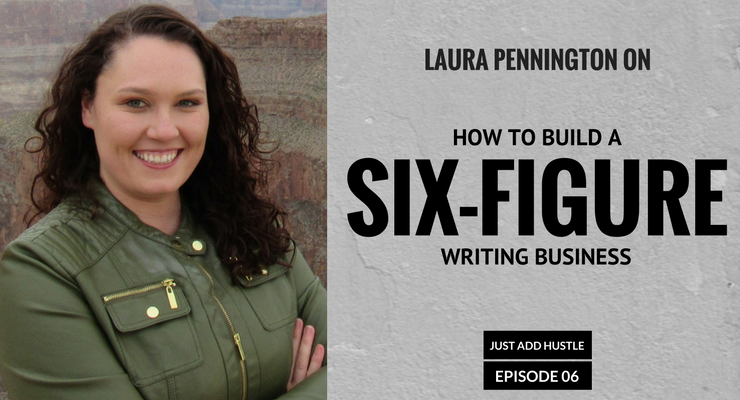 Just Add Hustle can be found on both iTunes and Stitcher.
This week's show:
Imagine replacing your current 9-to-5 salary as a freelancer in the next 90 days.
How cool would that be, right? But why stop there?
Imagine if over the course of the next 12 to 18 months you didn't just meet your current annual income — you raced past it and into a comfortable six figures per year!
If you're just getting started as a freelancer and struggling to get clients, this might sound way too good to be true. But it's possible. Just ask today's guest, Laura Pennington.
Not too long ago, Laura was miserable at her corporate job so she decided to give freelance writing a try. And in 18 short months she was making more money — and having way more fun! — than she'd ever made back at her cubicle farm.
In this episode of Just Add Hustle, Laura is going to show you how to build a six-figure writing business. Although the strategies she reveals will work for just about ANY freelance market.
So if you're ready to seriously jumpstart your freelance success, just hit yonder "Play" button below and let's get ready to hustle!
In this episode, you'll discover how to build a six-figure freelance writing business:
The decision you must make before you contact even your first client that determines how much — or how little — you'll earn as a freelancer.
Do what Laura did and become an "instant expert" in your market — clients will show you more respect and you'll make more money, too.
The best resource for getting your first few clients? (To say this resource is controversial would be an understatement. But Laura and I both agree it can be a great tool to get your freelance career off the ground — IF you use it the way Laura recommends.)
How Laura avoids "feast or famine" income as a freelance writer. (Follow this 3-step process and you'll have a much bigger bottomline and far more peace-of-mind as a freelancer.)
And more! (Seriously, this episode is jam-packed with goodness.)
Resources mentioned on the show:
Six Figure Writing Secrets — Laura's blog is a great place to get inspiration and advice for starting your own six-figure writing business
Laura Teaches You — Find Laura's freelance courses here, including, "The Guide To Killing It On Upwork As A Freelancer"
Upwork — The world's largest freelance job site and a good place to find your first few clients
Thank you for listening!
Special thanks to Laura Pennington for joining us and revealing how to build a six-figure freelance writing business. So much good advice!
And thank YOU for listening!
What'd you think of this episode? Share your thoughts and feedback in the comments section below.
You can share this episode on social media by tickling any of the social share icons you see on this page.
And if you're really feeling the show please rate and review Just Add Hustle over on iTunes.
It doesn't take long but it would put a big ol' smile on my face. And, more importantly, it's one of the best ways to help me get content like the interview with Laura you just listened to out to a wider audience of freelancers and entrepreneurs.
Until next time . . . stay hungry and keep hustling!