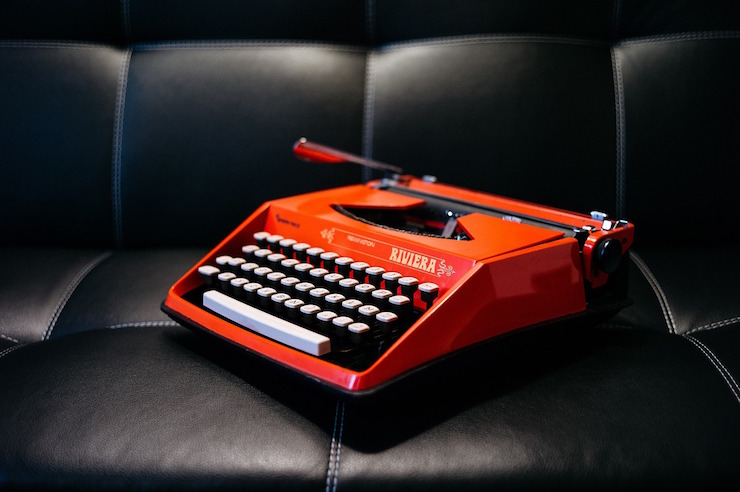 Pablo Escobar was the world's most famous drug lord. What can he teach you about starting a writing business?
More than you probably think.
I've been watching Narcos this week. If you're not familiar with it, Narcos is a Netflix series based on Pablo Escobar's life.
And the more I watch Narcos, the more impressed I am by Escobar's business savvy.
Now don't get me wrong. Pablo Escobar was not a good man.
He was vicious. He killed innocent people. And his cocaine trade ruined hundreds of thousands of lives.
And yet his story — at least the way it's dramatized on Narcos — is packed with lessons for building a successful writing business.
Here they are:
Starting A Writing Business:

7 Lessons From Pablo Escobar
1. You need a big, bold vision
Born into poverty, Escobar eventually became the world's seventh richest person.
He made Forbes magazine's International Billionaires List seven years in a row.
At his peak, he generated over $21.9 billion a YEAR in personal income.
Let that sink in for a moment.
Escobar was a dirt poor smuggler from a third-world country.
How did he eclipse property developers … business magnates … oil tycoons … and royalty to become one of the wealthiest men to walk the planet?
He did it by having a big, bold vision.
You can see an example of Escobar's bold vision in the second episode of Narcos. In this episode, Escobar meets a man named Mateo "Cockroach" Moreno.
Cockroach is a drug smuggler. But he's struggling to sell cocaine in his native Chile because of a government crackdown.
So Cockroach decides to sell cocaine in Columbia. And he asks Escobar for help. But Escobar has a bolder vision.
He tells Cockroach, "If cocaine sells for $10 a gram in Colombia, imagine how much it will sell for in Miami."
Escobar did not have the limited, narrow vision of a run-of-the-mill criminal.
He had a big, bold vision. And everything he did was in service to that vision. That's why he made Forbes billionaires list for seven straight years.
Like Escobar, you need a big, bold vision for setting up a writing business.
Don't settle for $25 articles in the content mills.
Don't scramble to say "Yes" to whatever work comes your way.
Don't publish "good enough" blog posts.
Be bold.
Dream big.
And then take action! Pursue activities that will turn your vision of a writing business into reality.
2. You must eliminate distractions and excuses.
Remember Cockroach?
After Cockroach introduced Escobar to the cocaine trade, he managed Escobar's drug labs.
For a few years, it was a profitable deal. Cockroach cooked up the cocaine, Escobar smuggled it into America, and they both got filthy rich.
But then Escobar discovered Cockroach was selling secrets to the Colombian police. Now the police were aware of Escobar's operation. And this caused major distractions for his growing cocaine empire.
So Escobar put a bullet in Cockroach's head.
You need to be just as ruthless with distractions when you're starting a writing business.
Distractions like Facebook, YouTube, and TV tempt you away from the work that needs to be done.
Excuses like "I'm too busy", "I'm not ready" and "I'll start tomorrow" stop you from ever getting started.
Be ruthless. Eliminate these distractions and excuses.
As the great Jim Rohn said:
"If you really want to do something, you'll find a way. If you don't, you'll find an excuse." Click To Tweet
So, are you looking for ways to get your writing business off the ground?
Or are you looking for excuses?
Because either way, you'll find what you're looking for.
3. You must focus on a niche.
Pablo Escobar was known as El Zar de la Cocaina — "the Tsar of Cocaine".
He wasn't "the Tsar of Illegal Drugs In General".
He wasn't "the Tsar of Whatever Drugs You're Looking For".
His thing was cocaine. That was his niche. And when you're starting a writing business it pays to focus on a specific niche.
Why focus on a niche?
A couple of reasons:
Focusing on a niche makes you an expert

and, generally speaking, an expert commands higher fees than a generalist. (Just think of how much a general practitioner earns compared to, say, a brain surgeon.)
Focusing on a niche makes you easier to find

, especially when you're starting out. Why? Because clients are more likely to search for a writer who is an expert in their market.
Focusing on a niche cuts down your writing time.

You won't need to get up-to-speed with every new project or book topic. Plus, you'll write faster and better as you gain expert knowledge in your field.
So it pays to focus on a niche. But you need to make sure it's a niche that pays. Here's how you do that.
4. You must satisfy a market demand.
In the 1980s, Pablo Escobar's drug cartel smuggled 70 to 80 tons of cocaine PER MONTH into the United States.
To give that some perspective, think about the car you drive.
The average car weighs about two tons. So it would take 40 cars to add up to the 80 tons of cocaine Escobar moved every month in the 1980s.
Picture it: a parking lot crammed with 40 cars made of solid cocaine. That's how much cocaine Escobar's drug cartel smuggled into America every month!  
Escobar's cocaine trade destroyed individuals and families across America.
No doubt about it.
But Escobar was only able to move mountains of dope into the country because people were willing to buy it.
He was satisfying a market demand.
Likewise, you need to go where the demand is when starting a writing business.
Maybe you're fascinated by the history of dolls in Victorian England. Writing about Victorian dolls makes you as happy as a kid on Christmas morning.
But if there's no market demand for articles or books or sales letters about Victorian dolls, guess what? Your business is going to struggle.
Think of it like a burger restaurant.
If you were starting a burger restaurant what's the one thing that would practically guarantee your success?
Is it the best burger? The best location? The lowest price?
Nope, nope, and nope.
The one thing that would practically guarantee your success is a starving crowd!
So if you want your writing business to be a big success, make sure it caters to a starving market.
If you want your writing business to be a big success, it needs to cater to a starving crowd. Click To Tweet
5. You don't need to do everything yourself.
Pablo Escobar knew there were certain things only he could do.
Only he could supply the vision and strategy that grew his drug cartel into a multi-billion dollar business.
But you need more than vision and strategy to grow a business.
You also need action.
And a lot of the activities you need to grow a business are time-consuming and mundane.
In Escobar's case these were activities like smuggling drugs into the United States and paying off the local police force.
Escobar was too busy to be personally involved with these time-consuming, but essential, activities.
So he delegated these activities to a small army of devoted henchmen.
Likewise, when starting a writing business you don't need to do everything yourself.
In fact, you probably can't do it all yourself.
Your time is limited. How do you make the most of your limited time? Hire out important activities that someone else can finish.
For example, uploading your books to Kindle, editing blog posts, creating images, managing social media, and so on. These activities need to be done as you're building your writing business.
But are they the best use of your time? Or, do these activities devour precious hours that would be better invested in something else?
If an activity isn't the best use of your time, consider giving it to someone else.
There are certain activities ONLY YOU can do to grow your freelance writing business.
Determine what they are.
These are your highest-value activities. Focus on these activities and you'll get the most bang for your buck.
6. You must make marketing a habit.
Pablo Escobar was the undisputed King of Cocaine.
Sure, rival cartels tried to elbow their way into the market, but they were pretenders to the throne.
These rival cartels were Kmart to Escobar's Walmart; Wendy's to his McDonald's.
Escobar DOMINATED his market. But he never stopped looking for ways to make his business more successful.
He forged strategic alliances. He positioned himself as a ruthless killer to his rivals. And he built trust with the common people.
In other words:
Escobar never stopped marketing.
And you need to do the same.
You need to look at marketing your writing business as a long-term project. Not something you do for a little bit and then drop once you've hired on a few clients or published a few books.
My advice:

Spend the first hour of every day actively marketing your writing business.
Click To Tweet
What kind of marketing activities am I talking about? Well, that all depends on your specific writing business.
Maybe it's blogging. Or cold emails. Or a podcast.
But the point is to make your marketing activities a habit. A habit you stick with even after your writing business is making money.
7. You must decide how badly you want it.
Pablo Escobar walked a rough road to become the world's 7th richest man.
Over the course of his career he faced opposition from the Colombian government, rival cartels, the U.S. Drug Enforcement Agency, and traitors within his own gang.
All of these were major obstacles. Obstacles Escobar smashed through in his quest to become the richest, most powerful man in Colombia.
That's how badly he craved wealth and power.
How badly do you crave writing for a living?
Because you WILL face obstacles.
Obstacles like a lack of time, capital, and other resources.
Obstacles like clients who are as much fun to work with as French kissing a steel bear trap.
Or obstacles like the cunning inner-voice that whispers, "Who are you to start a writing business?"
But if you want it badly enough, you'll overcome whatever obstacles are in your path.
That's when your writing business becomes the foundation of a life of freedom, fun, and financial security.
How About You?
Are you starting a writing business? Then here's something that might help:
Over the next 90 days I'm going to build a writing business from scratch.
No clients.
No website.
No portfolio.
And if you're ready to start a writing business, or level up your current writing business, then you'll want to join me in this 90 Day Writing Challenge.
It's free.
And if you're willing to HUSTLE I think you'll be amazed at how much different your writing business — and your life — looks just three months from now.
You can get started now by entering your information below. But hurry! The challenge kicks off Friday, September 1st and you don't want to miss out.